If you're looking for an experienced team of skilled professionals to design, build and install a sauna and steam room in your spa or leisure facility in Essex, turn to JC Leisure Solutions. As a renowned brand who have many years of experience working with major UK spa, hotel and leisure operators, the team at JC Leisure are certain to provide you with a wellness solution which exceeds your expectations. With both steam room and sauna room installation services, you can opt for both or either of these popular products for your leisure or spa facility.
We have an in-house designer who can offer advice and inspiration to turn your bespoke dreams of building a sauna UK into a reality. Furthermore, the use of premium materials skilfully built by our expert team with a focus on longevity and durability mean that there's truly no better choice when it comes to choosing a company to deliver exceptional steam room and sauna installation Essex services. Alongside installing a new sauna in Essex and a steam room from scratch, the team can also refurbish any existing facilities that you may have in order to provide a sleek and polished look.
Steam room and sauna installation in Essex fit naturally amongst other health facilities, and at JC Leisure, not only do we design, build and install the new additions to your facilities, but we will also ensure that we set out a planned maintenance schedule where required. This will help to ensure that your steam room and saunas are hygienic and well-maintained in order to prolong their life and remain compliant. Whether you have a spa or leisure facility, this is imperative to ensure when building a sauna and a steam room in Essex. If you would like a free quotation for your steam room and sauna room installation and build, get in touch with our helpful team, today.
Health Benefits Of Steam Room And Sauna Installation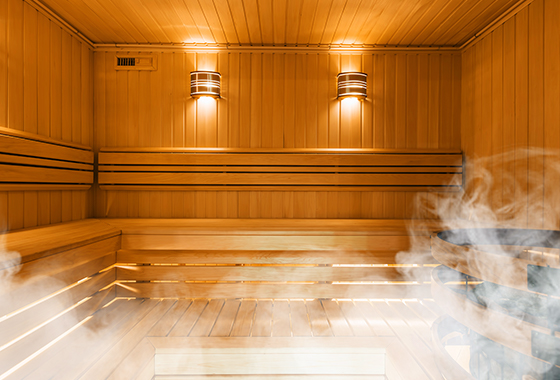 There are several health benefits of steam room and sauna installation for their users, including improvements in circulation, stress reduction, lower blood pressure, skin health and much more. Wellness is growing in demand across the UK, meaning there's no better time to introduce UK saunas and steam rooms to your facility. In addition to a variety of health benefits of steam room and sauna installation, the introduction of a sauna or steam room can also help to promote your businesses to a larger range of customers as the purpose and overall use of saunas and steam rooms continue to evolve. Whether a spa, wellness centre, leisure facility or hotel, our bespoke UK saunas and steam rooms are designed to match all of your specifications, so all your customers can enjoy health benefits of steam room and sauna installation.
Building A Sauna And Steam Room in Essex
At JC Leisure, we have a dedicated team who continually source some of the most appropriate materials for your steam room and sauna from some of the most sought-after locations around the world. When it comes to building a sauna UK and steam room, they are designed from a collection of traditional kiln dried Scandinavian wood and integrating experience enhancements such as LED lights and aroma infusions. Regardless of your preferences, you can find a design, build and installation service to suit every budget with JC Leisure.
Having designed and built wellness facilities for the likes of Handpicked Hotels, David Lloyd, Marriott Hotels and more, our experience means the build and installation of saunas and steam rooms is second to none. With state-of-the-art control systems, brand new fixtures which are tailored to your exact requirements and the highest level of service guaranteed, we can include everything when building a sauna UK or steam room for you.
When you choose JC Leisure Solutions for the steam room and sauna room installation and build, you can benefit from a fully comprehensive after sales team. In addition to this, you can opt for a planned maintenance plan depending on your requirements and budget, as well as benefit from 24/7 reactive maintenance services, available 365 days per year. This allows us to maintain the health, safety and security of your facilities, and to ensure optimal performance. We will also carry out a full inspection to ensure that your new Essex saunas and steam room facilities remain compliant with health and safety regulations. With free technical help also available all year round and training where required, adding saunas and steam rooms to your facilities is simple.
To find out more about the design, build and installation process of steam rooms and UK saunas, contact a member of our expert team today.

Steam Room and Sauna Room Installation FAQs
Can you help with any size sauna?
Yes, our expert team are able to give you a hand with any size or shaped sauna. We understand that all of our clients have different needs and therefore ensure our services remain fully adaptable. We work with some of the leading names in health and wellness but have also delivered our services to independent saunas meaning we are well-versed in all of the challenges that different-sized saunas can provide. Speak to our experts today for more information.
How much does it cost to install a sauna or steam room?
The cost of a sauna or steam room installation in Essex and UK is typically calculated by the size of the area per square foot. However, if you require additional features such as aromatherapy pumps, extra ventilation, or other add-ons like sound systems then the cost of your sauna or steam room will increase. At JC Leisure, our quotes are bespoke based on each project. Speak to a member of the team today to discuss your requirements to get an accurate quotation.
Is a sauna or a steam room better to install?
Saunas and steam rooms have different benefits, so it depends on what your clientele requires. Both are a popular choices at wellness establishments as many businesses find their clients prefer one or the other. Speak with our team at JC Leisure to find out what will be the best option for your business and your clients, or for more information about our sauna and steam room installation. 
Contact our customer support team if you have any questions.
With a 24/7, 365 days per year technical helpline and helpdesk/call out provision, we are always on hand to support your business