Here at The JC Group, we offer all of our clients a range of compliance and training services related to legionella so you can get control of legionella bacteria in water systems, whilst making sure that you adhere to all HSE and ACOP L8 guidelines and requirements. Identification and risk assessments are the very first port of call regarding safety and minimising the risks of potential outbreaks of legionnaires disease – it is of course your responsibility to make sure that you protect your staff and customers at all times.
For those responsible for the control of legionella bacteria in water systems for your workplace, it is vital that they ensure all sources of risk are fully identified and assessed, that a scheme has been put into place for prevention and that all records are kept in accordance with legislation with activities tracked closely. We recommend always that there is oversight and management for a minimum of 5 years to ensure full and complete compliance. Through thorough cleaning, turnover, temperature monitoring, ongoing maintenance, and the removal of infrequently used outlets, Legionella can be effectively prevented and controlled.
JC Water Services engineers are trained to the highest possible levels of quality and qualified to BOHS standards. This means that each and every member of our staff are fully competent and capable of safely and accurately assessing your water systems, whilst also being best placed to notify you of any issues which require addressing regarding the control of legionella bacteria in water systems.
What Does The Control Of Legionella Bacteria Entail?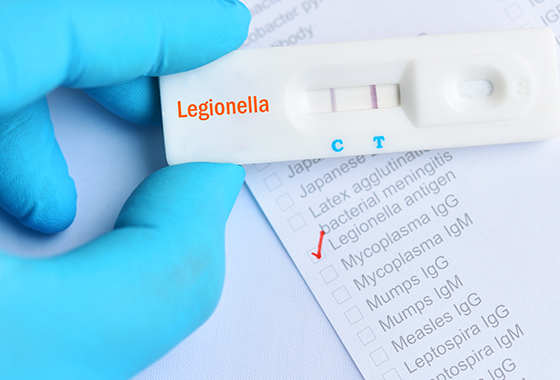 At JC Water Services, our team have the expertise to audit your water systems and to assess your overall risk, which means that should there be any risk or issues regarding the control of legionella bacteria in your water systems – we will find it. Through a specialist risk assessment and water sampling where required, we can determine the risk to your water services. We can also supply and train your staff so that they are able to themselves monitor and deal with the relevant risks outlined within the risk assessment. Schematics are also an important part of any risk assessment and so our highly trained assessors are also able to supply you with drawings as part of your risk assessment, alongside logbook controls. This logbook should be kept on site for a minimum of 5 years and can be used to keep an accurate record of all water tests, inspections and for the training records for staff.
At the JC Group, we also offer various legionella training courses via our training academy. We work alongside BOHS to offer Legionella P901 – "Management and Control of Building Hot and Cold Water Services". This is a 1 day training course with an exam at the end of the day. We also offer a more basic Legionella awareness online training course. More information and pricing for both of these can be found through the training section of our website.
Contact our customer support team if you have any questions.
With a 24/7, 365 days per year technical helpline and helpdesk/call out provision, we are always on hand to support your business